THE SEARCH IS ON FOR SPARKS' SUPPORT ARTISTS
Pop innovators Sparks are offering bands / artists / entertainers / performance-artists the opportunity to support them at a headline concert on the 2018 Hippopotamus tour.
MAY 2018
22 – UK, Glasgow, O2 Academy
23 – UK, Leeds, O2 Academy Leeds
24 – UK, London, O2 Forum Kentish Town
30 – France, Toulouse Le Bikini
JUN 2018
5 – Germany, Munich, Freiheiz
6 – Germany, Cologne, Gloria-Theater
7 – Belgium, Antwerp, Arenbergschouwburg
9 – Netherlands, Utrecht, TivoliVredenburg Ronda
10 – Germany, Hamburg, Mojo Club
14 – Norway, Oslo, Rockefeller Music Hall
16 – Sweden, Stockholm, Cirkus
17 – Sweden, Malmo, Kulturbolaget
18 – Denmark, Copenhagen, DR Koncerthuset
Artists who would like the chance to support Sparks at one of the concerts should upload a live performance video to YouTube and send the link of the video to sparks@republicmedia.net.
**IMPORTANT DETAILS**
Maximum of 7 audio channels available. Submissions should include stage plot and technical ride. Artists will be responsible for their own costs. The winning artists will be notified no later than May 10.
'Hippopotamus', Sparks' 23rd album, received unanimous acclaim on its release in September 2017, subsequently appearing in many 'Album Of The Year' lists.
★★★★★ The Times | ★★★★★ The Independent ★★★★★ Daily Express | ★★★★★ Record Collector ★★★★ Mojo | ★★★★ Guardian | Classic Pop – 9/10 | Uncut – 8/10
The accompanying world tour saw Sparks and their band play a set that was euphoric, vital, brilliant and uncompromisingly typical of a band that refuses to rest on their laurels. The new songs (from 'Hippopotamus' including 'Edith Piaf Said It Better Than Me', 'What The Hell Is It This Time?' & 'Missionary Position') sounded like classics, the classics (including 'This Town Ain't Big Enough For Both of Us', 'Amateur Hour' and 'The Number One Song In Heaven') sounded as vibrant and essential as ever, and audiences, and critics, were left in no doubt this genre-hopping band is on sparkling form.
Watch highlights of Sparks' performance at the BBC 6 Music Festival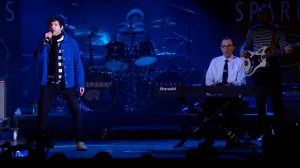 ★★★★★ The Times (What a band)| ★★★★★ The Independent (one of the most innovative outfits in pop) | Record Collector (What a night) | ★★★★★ Classic Pop (The Mael brothers burn up the place) | Classic Rock (A brilliant night) | ★★★★★ The Skinny (a band performing at their absolute best)
Since storming into the charts, minds and airwaves in 1974 with This 'Town Ain't Big Enough For Both of Us' from their album 'Kimono My House', Sparks have consistently created genre defying music and inspired – and continue to inspire and influence – generations of artists from Morrissey, Bjork & Depeche Mode to Franz Ferdinand, The Lemon Twigs & MGMT. Released on BMG, 'Hippopotamus' has been universally acclaimed with many critics declaring it to be one of the finest albums of the year and the pinnacle of the band's career. Written, recorded and produced by Sparks 'Hippopotamus' is released on digital, CD, LP, picture disc and cassette formats.