Sparks' Hippopotamus Fan Video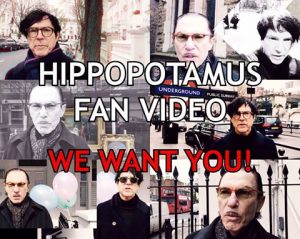 We are seeking your participation to help create a fan spoken-word video of "Hippopotamus".
A selection of those videos will be chopped and edited together into an official Sparks' Fan Music video and uploaded to Sparks' YouTube channel.
Here's what you do:
– Choose ONE line from the 'Hippopotamus' song
– Shoot a maximum 15-second long video of you speaking that ONE line (without the musical backing) in LANDSCAPE format (i.e. the camera needs to be held horizontally, NOT upright)
– Upload it to Facebook, Twitter, or Instagram using the hashtag #SparksHippoTalk.
– Send a copy of the video to the following email address: sparks@republicmedia.net
– If the video file is larger than 10MB please send via a platform such as wetransfer / dropbox
– All videos must be received by May 5th
The fine print:
1) No videos with a budget over $15,000,000 (conversion rate to your currency available upon request).
2) No entrants with a last name of Spielberg.
3) Images in focus are preferable but not absolutely necessary.
4) No nudity (that will be a part of a future contest).
5) No stunt doubles.
6) No real hippopotamuses must be harmed in the making of your film.
7) IMPORTANT: Follow the instructions under "Here's what you do." This will help our Lucasfilm editing team more efficiently edit the final video.
8) By submitting the video you relinquish all rights in the video, for ever more, throughout the entire universe.
Good luck!